TICKET Information:

$10 General Advanced
$13 Door
$8 Student (with ID)


Buy Tickets early, we have limited seating.
ADVANCED TICKET PURCHASE OPTIONS:
1) ONLINE - CREDIT CARD or PAYPAL: Purchase with a credit card or Paypal online using the link below. Once you've added the tickets to your cart in the Brown Paper Tickets site, click on the ORANGE "Pay via PayPal" button on the Buyer Details page, and this will take you to Merrimans' PayPal account. You will then have the option to pay with your credit card or your PayPal account. Make sure you finish all steps to receive an email receipt (even if you use your credit card, conitnue the process through our PayPal account).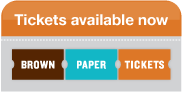 2) IN PERSON: You may pay in person at the Piano Shop on 1211 Mishawaka Ave. CASH preferred. Please call 574-329-3430 to make sure we are available at the shop. You may also come in during our Monday evening Open Session (7:30 - 10:30 pm).
3) PHONE: If neither of these options work for you, please call Mary at 574-329-3430, and we will get you set up with tickets!

see more below...
Concert
Renato Anesi
Friday, January 16, 2015
Music begins at 8:00 pm
Doors open at 7:30 pm

Anesi is a master of a range of stringed instruments used in Brazilian music – from the open tuned viola caipira with its bell-like tones to the playfully expansive tenor guitar, from the baroque requinto guitar to the rich and resonant classical guitar – and in his all guitars solo show the audience has the rare oportunity to discover great Brazilian composers such as Pixinguinha, Waldir Azevedo and Chico Buarque interpreted on these various instruments.

Link to Renato Anesi's Website

Merrimans' Playhouse
1211 Mishawaka Ave.
South Bend, IN 46615
Click here for Map
Contact
merrimuse@sbcglobal.net
574-329-3430